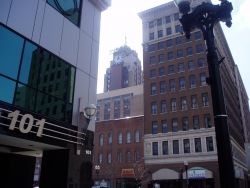 hood
About
Username

hood

Joined

Visits

3,505

Last Active

Roles

Moderator
Comments
@Lymon89 I saw the same thing. I also had basketball court as my first guess and had the came complaint that they're putting too much in what is supposed to be a more formal urban park. I get the park is underutilized and maybe some of this is ne…

I saw that, it has the potential to be something really significant. I'm hoping for something non-automotive though. Aerospace, pharmaceutical, renewable energy or chip manufacturing would be nice to see.

This looks like a solid plan and is coming from a large national developer which is a plus in my book. I'd say if these guys seems even remotely serious EL should drop their agreement with River Caddis come January and move forward with this proposa…

I'm somewhat of a preservationist and I'd argue none of the houses on that stretch of Willow are worthy of preservation besides the Head Start building. That being said I'd prefer to see mid or high rises here and not small apartment buildings, hope…

Yeah, I don't necessarily expect the Consumers site be redeveloped too quickly without a concerted effort on the city's part. I imagine whoever develops the property will probably want to buy the apartments in front there and tear them down. I al…

I'm not mad at all to see that Consumers Facility move off of Willow. It may not be great in the short term as you lose the extra workers in the area but it offers a really significant redevelopment opportunity that could help change the fate of tha…

I agree that neither of this are terribly exciting. Regarding the project on Michigan, if a company wants to reuse a building like that for the HQ that's fine and all but it's probably not worthy of property tax credits. I think property tax credits…

That's true, the state definitely isn't going to be the one pushing for a switch.

I'm sure the city would be open to it. The big argument for not constricting the roads would be from the state and suburbs as the routes are state thoroughfares and their constriction would likely negatively affect passers through while benefitting …

I do wonder how viable it would be turning Larch into a three or four lane road and Cedar into a two lane street with parking, Pennsylvania is way oversized now and may be able to pick up the slack. Anecdotally I feel like there's less traffic on Ce…

Yeah, it's not my ideal plan for that building but they are doing an impressive job. Gutting it, building up a steel structure with concrete floors, adding a parking garage; they are spending big money. I do think it will be a small part in helping …

I'm hoping the Michigan & Marshall thing ends up being another apartment/mixed-use building, it'd seem pretty logical. Both properties are owned by Michigan Certified Development Corp on Coolidge Rd, but that doesn't provide much insight. I m…

Yeah, nice to see those pics. Not a lot too special in the building but the old generator hall seems like a nice even if relatively plain space.

The last financial piece of the Walter French project has fallen into place and they are slated to begin construction early next year: https://www.lansingstatejournal.com/story/news/local/2022/09/08/state-awards-5-million-for-walter-french-a-last-hu…

I do hope they offer some tours of the building when it shuts down, I'll have to force myself to not miss the opportunity if so. All the above being said, I really do believe that a large scale entertainment complex, in particular a large and wel…

Yeah, after looking into it a bit more it looks like the existing Neogen management will be taking the lead in this venture despite being the minority shareholder. I'm still wondering if Neogen is the company that Gillespie spoke of wanting to possi…

Steel is going up at the Ultium battery plant: https://www.lansingstatejournal.com/story/money/business/2022/09/07/2-6-billion-lansing-battery-cell-plant-ultium-cells-construction/65857622007/?fbclid=IwAR0DuFeCK2FAxL0N4rinLmqKTuTEbD_27Dd52PsI5FEdFru…

Not entirely unexpected, someone from the county was quoted saying they were going to attempt an expedited appeal. We'll see, I guess.

It's definitely a challenging project but may not be as bad or at least any worse than the Ottawa Plant, at least on a per sq ft basis. The only portion of the building that they need to be careful with is the old power house closer to river, the ta…

That's a good point that pinning more threads could be counterproductive, I guess I'm neutral on that one.