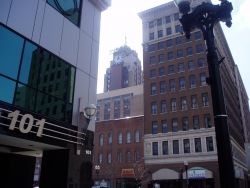 hood
About
Username

hood

Joined

Visits

2,946

Last Active

Roles

Moderator
Comments
Well, the developer is backing out of the senior housing: https://www.lansingstatejournal.com/story/news/2022/05/06/east-lansing-developer-backing-out-park-district-housing-project/9589876002/

@sabatoa I'm not sure about that, I found my old post: https://develop.metrolansing.com/discussions/discussion/comment/13427#Comment_13427 ...but I think I threw away the packet they gave out. I'm pretty sure they were a company out of the Kalama…

@sabatoa Yeah, I had a hunch because the guy who owns (or manages?) some of the renovated apartments in Cherry Hill hosted neighborhood meetings over in that building. Which reminds me, he was somehow in partnership with the developer that proposed …

@sabatoa I looked up the Holmes St School and it comes back to the Blackboard District LLC at 2722 E Michigan Ave, which I'm pretty sure is related to the company that owns the Cherry Hill properties. I forgot there was something going for that scho…

@MichMatters They definitely own some of the properties. I was parsing the tax records looking for taxpayers addresses since virtually all the properties in question are owned by holding companies, most of which are just named the address of the pro…

@sabatoa I envy your friend a bit who gets to work with them on some of these projects. If you ever hear anything that you can share I know we'll be happy to hear about it.

This is a pretty interesting little plan, a developer plans to tear down a single story storefront next to the old downtown EL Barnes & Noble and construct a new two floor building with a restaurant, rooftop patio and a bocce court. The building…

I also am a fan of their concept. I remember talking about constructing buildings over 496 at Washington a few times over the year here, it's really great to see it, even in a conceptual rendering, by someone who might actually be capable of making …

Has anyone seen this site? I'm not sure what to make of it, it seems to be related to Urban Systems and/or Forsberg Real Estate, the people behind the above mentioned City View development. I beginning to wonder how much of this land they may own or…

The Haslett Village development appears to be moving forward, it will have 290 units and over 20k sq ft of commercial space, they'd like to begin demolition this year and complete the first phase by the end of 2024. I believe there was also a four f…

https://www.lansingstatejournal.com/story/sports/college/msu/football/2022/04/22/michigan-state-msu-football-spartans-board-of-trustees/7413470001/ I read the other day that the first phase of the new Tom Izzo Football Building was approved and w…

I still wish they'd post a proper rendering somewhere, all I've seen is the bit you can see on the banner and I'm not even sure that's what is actually being built. Regardless, I've been glad to see this building go up, it's very near my house.

@MichMatters Thanks for sharing the sneak peak of the interior. I look forward to visiting.

The stage is being set for something to happen, I wouldn't be surprised to see a merge talked about by somebody that matters at some point. The Heights is just an odd thing, it's the densest part of Eastwood and it's an island way out on the edge…

...Things continue to come apart at the seems for Lansing Twp, Eyde is now suing them. It's not an unexpected development, but it's really piling on at this point: https://www.fox47news.com/news/state/lansing-township-backed-the-heights-at-eastwood-…

Agreed, even a little greenspace is an improvement over solid asphalt but they really need trees in these things along with some other plants. It probably wouldn't hurt to add some decorative fencing or boulders around them as well as the sides look…

lol Yeah, those rain gardens look pretty goofy right now. I'm not wrong in my assumption that they are going to do plantings in all these along with in Ranney Park, am I?

@MichMatters I've looked and can find nothing on it, I assume it must have been part of that $4.8 billion bill that included $500 million for parks? If they end up taking out the parking lots west of the Ottawa and Hannah buildings then it will be a…

The ineptitude of Lansing Township officials continues, they are struggling to refund some overpaid taxes by Wal Mart and Sam's Club, the county is having to step in and help. I find this sort of amusing: https://www.lansingcitypulse.com/stories/…

Oh boy, "3 identical 3-story buildings" does not sound promising in the slightest.