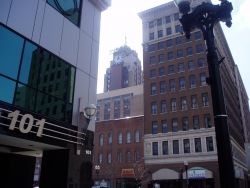 hood
About
Username

hood

Joined

Visits

2,042

Last Active

Roles

Moderator
Comments
Overall the building looks really good. The mosaic behind the check-in desk of Draymond Green (I think?) is a little bit weird looking though.

Yeah, it's easy to forget how big of a step in the right direction that building was. I do kinda wish he would have went with the original design in a way, it would have been a lot more unique.

They started on what I assume is the new Techsmith building in the last few weeks. It looks like they're digging the foundation up fairly close to Harrison, which is a promising sign imo.

No doubt that a four floor parking ramp is far better than a surface lot 4x the area. Last I looked the garage was looking like it was near completion, the whole complex is looking to be nearly done on the exterior. I need to remind myself to slow d…

@JazperG A guy on YouTube named John McGraw has done some drone videos over Lansing and East Lansing, I think these are his two most recent:

I really don't what to expect in that 7 block area, or even what I'd want there if given a choice. One thing I would still really like to see is Washtenaw restored as a public street, I hope to see it continued through the State Library's parking lo…

They're kind of light on details right now but it will be good to see Otto in use again: Advancement Corporation partners with Metro Lansing Poor People's campaign to create community center

And here I was always blaming the township for the horrible state of the block between Saginaw and Grand River. It's really disappointing to hear that it's been the city's negligence all along, there's no excuse for it getting to the point that it w…

I'd agree it's certainly worth a try, we just need a politically and legally adept person to get behind the idea.

..And I'll continue to cry about annexation of those areas right along with you.

@MichMatters Do you remember if anything to do with the Deluxe Inn site went through any of the zoning/site approval or incentive processes? Didn't they have at least a somewhat formal proposal at one point or was that only part of the RFP? Edit:…

@Darklink Yeah, that would be nice also. I'm definitely one of the people that avoids that left turn at all costs during the day.

I'm incredibly happy just to see that Clippert will be repaved, that block was in horrible shape, another nice bonus of this drain project.

No, I wouldn't expect or want a formal park there. But to remove the streets and let it turn back to nature, build some paths, maybe a picnic pavilion or two would be nice. It might not be a bad spot for another one of Pat Lindeman's rainwater reten…

I just hate to see streets vacated unless it's for a very, very good reason (maybe for a new convention center or something like that), I don't see any possible way that this project will constitute a very good reason. I generally want to see street…

I'm assuming their goal is to eventually buy out all the houses and remove the street to certain point, maybe make a proper park out of all of it? Do you know if they've ever stated a long term goal?

I'm really not thrilled about Sparrow convincing the city to let them vacate more streets. I wish the city wouldn't allow it, Sparrow can easily work around the street being there.

@gbdinlansing Yeah, there's another building that's part of the City Center project yet to go up on Evergreen. I'd forgotten about that project, I don't remember how long they have to complete it per their agreement with the city.

The Emergent thing is definitely something I'll be looking out for, every inch that can be gained in attracting and expanding these high-paying fields is important for the area. I guess the recycling thing is a done deal now so all there is to do…

It's very good to hear that Emergent will be making a fairly significant addition to their facilities in Lansing, I wonder if this plan is even remotely near happening? I'm assuming the document that came from gave no further details?